You Are Sure to Find a Digital Marketing Platform That Fits Your Needs from This Diverse List
When the World Wide Web fell in our laps in 1989, not many had any idea on what to do with it (let alone how to use it for marketing). However, once it really started to really take off through the 1990s, outbound email marketing became the first popular form of "digital marketing," which was not a name at the time. As the web grew, here came search engines, mobile websites and apps, social media and so on.
With all these new ways to reach people and collect data, the term digital marketing was born. With marketers and industry innovators desperately trying to figure out how to maximize all this new potential, there needed to be a way to manage and consolidate it all. And then digital marketing platforms came next!
Digital marketing platforms are basically some sort of online management interface that allows for users to manage some or all areas of their digital marketing components in a centralized place with integration and other tools that streamline posting/editing, reviewing data, etc.
So, what are the best? Do you want one central platform or a few different digital marketing platforms for different purposes? We dive into the top platforms, what they do, who they are right for and more!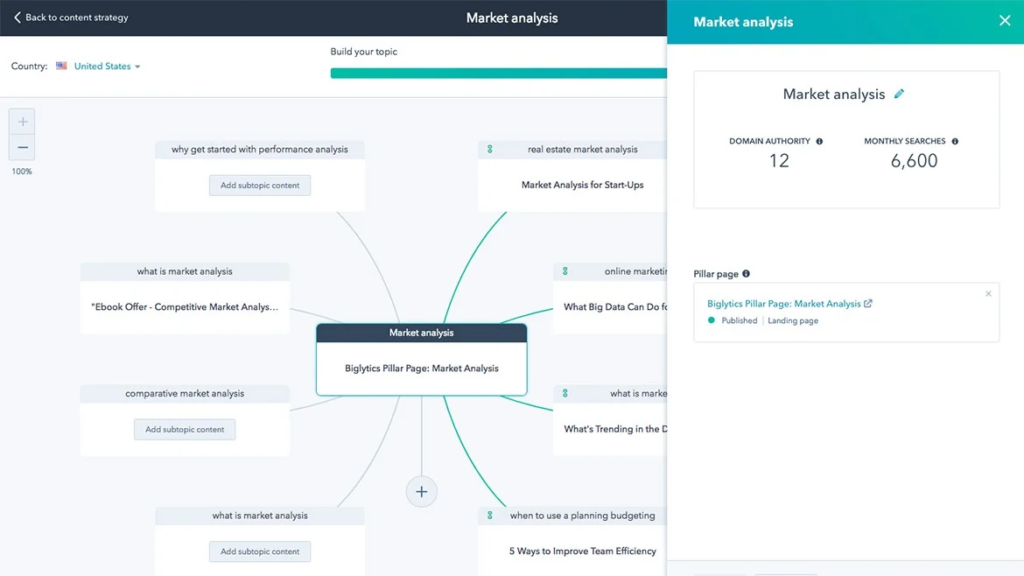 This may be the most well known all-encompassing digital marketing platform. There is not a single area of digital marketing that this platform doesn't touch in some way. It's perfect for a marketing department looking to maximize content creation through multiple avenues and have a digital marketing strategy built on cohesiveness.
The best thing about this platform is that it's not just useful for posting to multiple channels or integrating with other software, it's built in a way that helps you be successful at these items. There is an entire academy dedicated to teaching you how to use the software and how to grow your business with the platform. You also typically receive a HubSpot Expert as your own personal rep to help you along the way.
Some other features that should be noted:
Easily build/publish blog posts and landing pages
Utilize a suite of SEO tools (with custom SEO suggestions)
Comprehensive set of email tools and campaign concepts for email marketing
A variety of well-organized data banks and analytics
A/B test landing pages and email campaigns
Keep full control with the ability to assign access to the right team members
All this and we haven't even touched on social media, marketing automation and other available integrations. If you're interested, I encourage you to look more into the product.
I know this might be starting to sound like an advertisement for the software, but I assure you it's not – it's just a very comprehensive solution. If there is a drawback, it's the pricing which can get a bit steep.
For small businesses running rather basic digital marketing initiatives, you can get as low as $40 a month if you pay annually, but (there is always a but) for more advanced departments looking to really maximize HubSpot as a project management tool and take advantage of their set of financial tools then you are getting into the $3,000+ a month range as a starting point.
All in all, this is a very good product that can be utilized in a lot of different ways.
Pricing: $40/month – $3K+/month
Best for: Marketing departments looking to touch on a wide variety of digital marketing channels
Best aspect: It doesn't just streamline the process, it helps you make the most of your efforts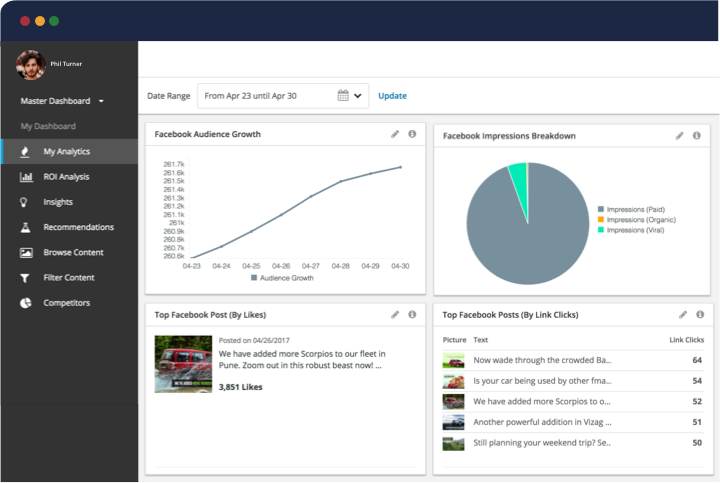 Hootsuite is much more of a niche platform than HubSpot as it solely focuses on social media management but it's still one worth mentioning on this list. It solves a lot of customer needs in the social media marketing landscape. The core of what it does is allow you to easily post to all the major social media platforms at once and schedule a variety of posts out for as long as you need to. However, it does posses quite a bit more than just that core feature, including:
A suite of tools (in platform or through integration) that help you find relevant content to share
Customizable reporting and tracking, which is helpful for internal use or with your clients
Manage paid social media campaigns and promote posts right from within the platform
Improve brand management with alerts and other monitoring features so you can respond to users in a timely fashion
This platform works well for agencies that offer social media marketing as a service or internal marketing departments with a large amount of accounts to manage. Pricing is very reasonable as the "professional plan" is only $29 a month and covers 10 social profiles, which should work for most internal marketing departments.
For agencies with advanced client bases, you're looking at $599 a month most likely. They also offer customized packages and solutions for the enterprise level.
Pricing: $29/month – $599/month
Best for: Internal marketing departments managing multiple accounts/posting to multiple platforms and marketing agencies who offer social media marketing as a service
Best aspect: You can manage both organic and paid social media efforts from the same platform

Marketo is somewhat of a similar software as HubSpot but I'd say it's not as inbound marketing focused (but still to some extent). With a platform model built on complex buying journeys, Marketo touches on a wide variety of channels and concepts to drive leads. With advanced automation software, Marketo gives you the ability to engage users through paid and organic campaigns, include personalization technique and A/B testing in your funnel and track every step with deep measurement capabilities.
This digital marketing platform also includes:
Email marketing tools
Social media management resources
Digital ad integrations
Predictive content capabilities (IE content suggestions based on past customer interactions and other data points)
Marketo is not a digital marketing platform for the novice marketer or even for your mid-level marketer. It's a really useful tool for a marketer who enjoy digging into analytics and has an interest in automation and other AI-like tactics. It's also a platform that integrates very well what your sales team is doing.
I recommend that you have a plan when you bring Marketo into your marketing department as it's pretty pricing. They base their pricing on "database size" IE the number of contacts you're managing. Their pricing will most likely run you somewhere between $900 – $3k+ a month.
Pricing: $900 – $3k+ a month.
Best for: The marketing department that is looking to run advanced campaigns built on integrations, data and automation
Best aspect: The ability to build long term relationships with customers based on personalized content through an automated journey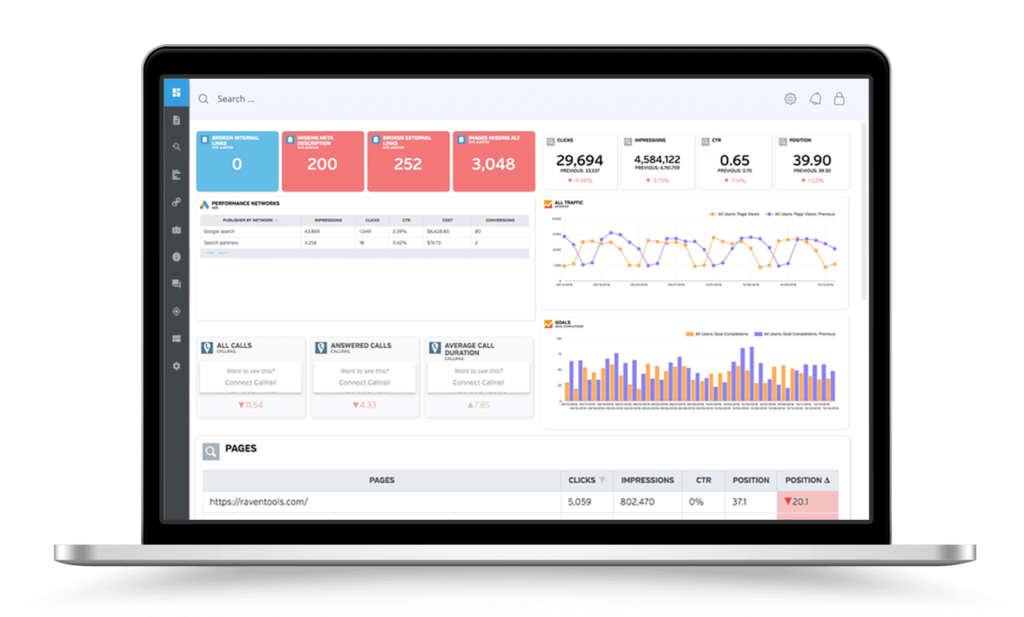 This particular digital marketing platform is much more on the SEO side of the digital marketing spectrum. Raven Tools refers to itself as an "all-in-one SEO tool platform," but it is more of an SEO/SEM platform as it covers both channels pretty well. It's a little more focused on marketing agencies as it has pretty extensive marketing reports (that you can white label as well), but it could surely work as a platform for internal marketing departments needing some professional-grade SEO reports to showcase for upper management.
Their reporting capabilities are only surpassed by their toolset, which includes:
Keyword Rank Checker – Allows you to research your competitor's, your client's or your own websites to see what keywords they are ranking for or not ranking for
Link Building Manager – Monitor all of your external links and backlinks as well as the type of links they are
Rank Tracker – Tracks your ranking on individual search engine results pages (SERPs) with a variety of helpful filters
Backlink Tools – See where backlinks are coming from on any website out there to help you build a better backlink strategy
And more tools including website audits and competitor research
As I mentioned, the tool covers more than SEO. It integrates with all the major social media, SEM and email automation platforms to serve as a fairly comprehensive digital marketing solution that is mainly SEO focused. They have 5 plans that range from $39/month to $399/month. The plans are titled:
Small Business
Start
Grow
Thrive
Lead
Pricing: $39/month – $399/month
Best for: SEO marketing agencies or internal departments looking to really deliver on SEO marketing
Best Aspect: Advanced and professional-grade custom reports
I'd say one area many marketers struggle with is online advertising. That is why it is imperative to seek help where you need help. Marin Software is a digital marketing platform that focuses on digital advertising. In their own words they deliver "customers, revenue, and ROI for digital advertisers." Their strategy focuses on three principles for growth:
Integrate – Marine Software focuses on integrating data from all areas of your business
Align – Each ad campaign channel has its own challenges, Marin Software helps you align with each one of their styles
Optimize – Get bid and budget suggestions through powerful machine learning technology
When it comes to what specific channels Marin Software focuses on, there isn't a shortage. This is a comprehensive digital advertising solution. They mainly focus on search engine advertising, social media advertising and eCommerce advertising. With putting these three tentpole channels onto one single interface, it will allow for you to align content campaigns, cross reference data, and compile broad and thorough reports.
This digital marketing platform is ideal for the department that is managing big budget brands that are looking to pump money into various areas of digital advertising. Marine Software's pricing starts at $499 a month and has custom elements that dictate the price from there.
Pricing: Starts at $499/month
Best for: Large brands looking to advertise on a wide variety of digital channels
Best aspect: The ability to manage every phase and area of your digital advertising needs on one platform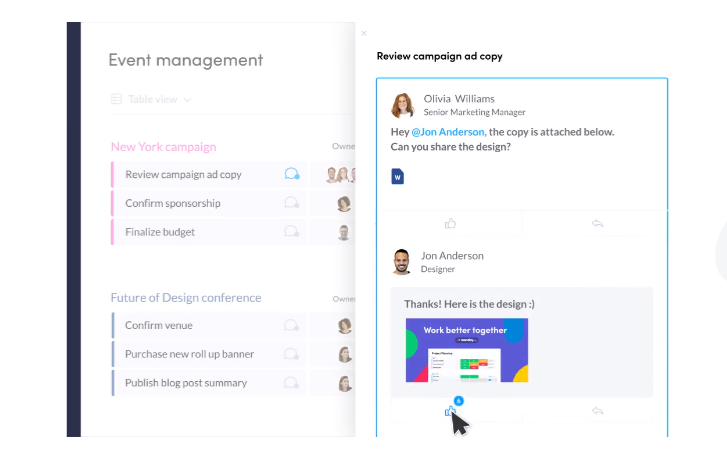 This is a bit of a different take on a digital marketing platform as Monday.com is more on the project management side of things. We all know how difficult it can be to manage large teams, content calendars, multiple platforms, collaborations with other clients or departments and so on. That is why a platform like Monday.com makes the list.
This a project management platform with a digital marketing focus as its built to cater to specific channels, such as SEO, design, content creation, social media and digital ads (as well as basic operations projects). There are dozens of exciting features that come with the platform:
Track time to bill clients
Robust content calendar that doubles as task manager
Automate the project management flow to notify the correct users as tasks get completed
Customizable forms allow for departments to get all the information they need right from the beginning of a project
Monday.com also integrates with seemingly all the major players in the marketing space from Mailchimp to Salesforce to Slack and so on. It really does do a good job of bringing all communications into one central place.
Monday.com is good for most marketing departments, especially departments with a focus on in digital marketing. Although it might be unnecessarily complex or involved for smaller departments (I recommend Basecamp if you're a smaller department and prefer a checklist style of PM). Pricing comes with many options with a starting point of $8 per month billed annually. Their pricing is based on the amount of users, GB, integrations and features needed.
Pricing starts as low as $8 per month but jumps as high as $55 per month before getting into custom pricing. If you're having trouble juggling all the aspects of your marketing department, I would surely look into Monday.com.
Pricing: $8/month – $55+/month
Best for: Mid to large marketing departments who focus on digital marketing initiatives
Best aspect: Built in content calendar/amount of integrations
I hope these insights on the top digital marketing platforms on the market today put you in the right direction on figuring out what is the best platform for you and your company's needs. They all offer something a bit different. Remember to have a plan and select the best platform based on existing needs. Best of luck!