Can't seem to make it on your search engine's first results page? Here's how you can.
Search engine optimization, or SEO for short, is imperative when it comes to ranking on the first search engine results page (SERP) on Google and other search engines. As such, it's vital for businesses and other organizations, regardless of size, to follow what the marketing industry refers to as SEO best practices.
What is SEO And Why Should You Care About It?
In a nutshell, SEO is the way that you set your website apart from others in the eyes of search engines. It has everything to do with establishing yourself as a reputable authority and resource within your industry — demonstrating that you're a website they want to link users to for information.
Knowing how to SEO your website effectively is a skill that comes with practice. There are many factors considered when it comes to effective SEO and helping your website rank among the top sites, some of which include:
The amount and value of the content you provide;
How the content is written and formatted;
Internal resources that you link to (internal links);
Reputable external resources that you link to (such as new websites, institutes of research and education, industry associations, government websites, etc.);
The number and types of websites that link back to you;
The use of metadata best practices and requirements;
The security of your website and data.
Great. So, if you implement a bunch of changes now, you'll be set from now on and will always be featured on Google's top search engine results page, right?
Wrong.
This is why we're here — to help familiarize you with some of the SEO basics you need to know to create successful and effective website content. This will help you know how to do SEO effectively to get the best results.
How to Rank on Google
If you're not sure how to improve Google search results, you've come to the right place. Depending on the topic and industry — as well as other factors such as how long your website has been around, how much content you have, etc. — ranking on the first page of Google can be challenging. However, implementing current SEO best practices can make this process easier, though staying current isn't without its own challenges.
One of the reasons that staying up to date with the most current SEO best practices can be challenging is because they're always changing. Google, for example, releases hundreds of changes to their search engine algorithms — the formula that it uses to determine what content is valuable and should rank on its top SERP. While most of these are minor, there are the occasional major updates (such as Panda, Penguin, Hummingbird, RankBrain, etc.) that they roll out that have more significant impacts.
5 SEO Best Practices to Get Your Website Ranking in 2019
While writing this, it was hard to put in order these search engine optimization tips because they're all important.
SEO Best Practices Tip #1: Create Valuable Content
If you've worked in the marketing industry even for a short period of time, you may be familiar with the adage "Content is King." When it comes to strong search engine optimization, content plays a major role (though not the only role) in the success of your website. When creating content for your website, your job is to create valuable content that helps users address an issue. After all, people turn to the search engine gods when they are trying to find more information or find a solution for a particular problem.
Here are a few examples of what we mean:
Have an important work event and need a new outfit? Look for professional dresses or suits using keywords relating to those terms.
Aren't sleeping well? Look up info about over-the-counter medications, new mattresses, and relaxation techniques.
Tired of eating the same meals every week? Look up new recipes and cooking videos.
Looking to try a new place for dinner? Look up keywords such as "restaurants near me."
Not sure where to go on vacation? Look up keywords relating to travel photos and read blogs on the topic.
Valuable content is that which is timely, relevant, innovative, and helps them solve their problem. If you're not sure what to write about in your industry, you can refer to the Google Trends website to see what's trending in online discussions or what people are searching for overall. Note: The link we included is set to the United States for the geographic region, so be sure to change that to whatever region(s) you want to focus on. One of the site's modules includes "related inquiries," or search terms that people are looking for on Google… which actually leads us right into our next discussion: keywords.
SEO Best Practices Tip #2: Use the Right Types and Amounts of Keywords
The importance of keywords in SEO can't be overstated. Keywords are the foundation of your content and are what help users find your website. These are the terms that people are using to search for your content. We'll speak more to that moment when we discuss some of the tools you can use that will make finding these keywords a whole lot easier.
However, there's one more thing that we need to note: The success of your keywords hinges on using not only the right keywords but the right amount of them as well. Keyword stuffing — the practice of using too many keywords — is something that search engines like frown upon and will penalize. If the search engine deems that you've used too many keywords, it views it as spam.
Still not sure what we mean by keyword stuffing? Here's an example:
If you're looking for top vacation destinations, then you've come to the right place. We have put together a list of some of the top vacation destinations in the world. This includes some of the top vacation destinations for couples, families, or even those traveling solo. Visiting some of the world's top vacation destinations doesn't mean breaking the bank, either!
Was that enjoyable to read? Absolutely not. It's very repetitious and makes it very apparent that the writer is just trying to include that keyword as many times as possible.
So, how many keywords should you include in your content? The "secret sauce" of keyword density differs depending on the search engine. For example, Seo-Hacker.com says that Google recommends a keyword density range of 1-2%. Yahoo, on the other hand, recommends 3%. If you're not sure, aim for the 2%.
Our biggest takeaway for this section? While it's true that you're writing content that needs to be found by search engines, you also need to be writing content that will appeal to your human audience. If your content looks like spam and sounds like spam, it's probably the digital equivalent of a big ol' can of gelatinous meat product.
SEO Best Practices Tip #3: Use the Right Keyword and Optimization Tools
Having the right tools in place can be a huge advantage because they can help you identify keywords you should use. However, we have to stress — using just any keywords is not the same as using the right keywords.
Using tools such as Google Ads' Keyword Planner, SEMRush, and Moz can help you to identify keywords based on:
Search volume,
Difficulty/competition scores (the lower the competition, the better your chances of ranking for it), and
Organic click-thru rates.
What they can't do, however, is help you with searcher intention.
Searcher intention refers to what the user who performs the search is hoping to accomplish — they are likely trying to solve a problem. So, if you're targeting a great keyword in terms of search volume and low competition but miss the mark regarding searcher intention, then you've missed the mark regardless.
An example of this would be the info security-related keyword "how to delete certificates." Does this mean that the user is trying to find out how to delete certificate (such as an SSL/TLS certificate) from their computer? Are they trying to remove certificates from their server? And, furthermore, what kind(s) of certificates are they trying to delete?
To be effective with your keyword usage, you'll need to determine whether the end user is looking for based on other search results. For this particular search term, for example, you can see that the top search results are related to SSL/TLS certificates, root certificates, and specifically removing these certificates from several web browsers or web servers: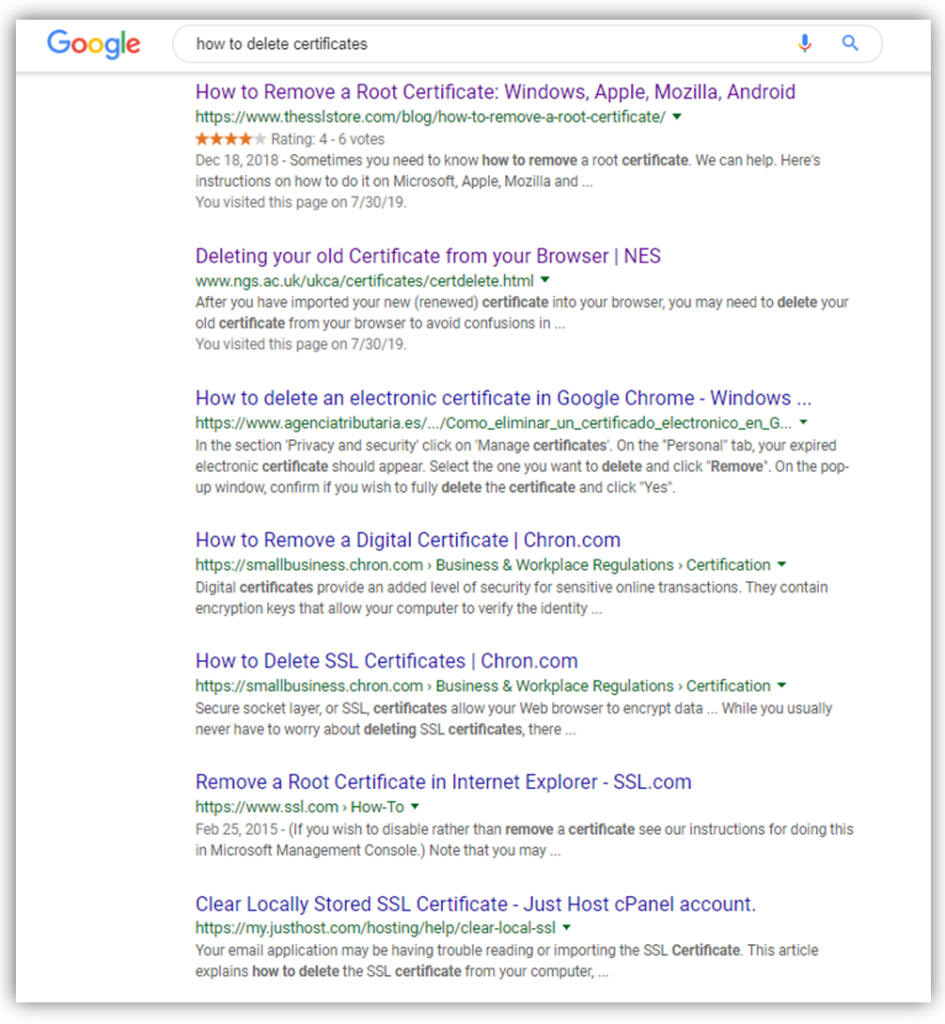 This should give you a better idea about how to target keywords based on searcher intent. However, including targeted keywords is not the only play you should make concerning SEO. Another of our search engine optimization tips is to use good formatting.
SEO Best Practices Tip #4: Implement the Right Formatting
Search engines, in some ways, are a lot like people: They want to be able to get the most work done with the least amount of effort. Google's search engine, for example, uses bots (called "spiders") to "crawl" the content of website pages to determine:
What the page is about,
Whether the supporting content is relevant to the keywords being used,
Whether the site is authoritative (and/or links to authoritative resources).
To figure this out, the search engine "skims" the content to ensure that the content is readable for users. Pages that rank best typically usually include the use of header tags and numbered or bulleted lists. Some of the formatting elements it looks for includes:
Titles,
Subtitles,
Headers,
Section headers,
Bulleted lists,
Alt tags,
Meta descriptions,
Shorter sentence lengths,
Shorter paragraph lengths, and
Other types of formatting.
Alright, we're almost done. The next thing we'll want to address is the effective use of images on your site.
SEO Best Practices Tip #5: Use Images Effectively
No SEO best practices list would be complete without some SEO best practices for images. After all, images are an important component of any website — if you're a website that sells products, showing your wares helps prospective customers see the appeal of your products so they want to buy them. If you sell services such as roofing or flooring installation services, showing examples of your finished products (a new roof on an attractive house or a beautiful new hardwood floor inside of a modelesque home) will help to inspire confidence.
Research from 3M shows that the human brain processes visuals 60,000 faster than text. Furthermore, visual aids have shown to improve learning and retention by up to 400%.
Consider the following example:

Which did you process more quickly? Of course, you processed the image far more quickly than you did the textual description of the cube. Relevant and effective visuals communicate information more clearly and quickly than text. Furthermore, graphics such as photos, videos, and illustrations help to break up the wall of text that your web page can become otherwise.
One of the most important SEO best practices for images we can mention is the use of alt text and meta descriptions. In a nutshell, alt text is an invisible description of the images that are read aloud via screen readers for individuals who are blind or visually impaired. This contributes to making your website ADA compliant (the Americans with Disabilities Act). It also serves as a textual description alternative if, for some reason, the images aren't loading properly on your website.
The spiders (the search engine bots we mentioned earlier) will "read" this information on your images and will also use this information to include your graphics in the Google image search results.
Other SEO best practices for images include:
Customizing file names;
Using images hosted on your own site; and
Utilizing the right file quality-to-size ratio (using images that are 72 DPI versus 300 DPI).
Wrapping Up
There are other factors that come into play regarding SEO best practices. However, we don't have all day to keep writing on this one topic and still have other content we need to write for our small yet demanding audience.
Have any great SEO best practices you'd like to share? Be sure to include them in the comments below.