Diving into Different Types of Websites with Some Surefire Tips!
One of the most important marketing aspects of starting a business is nailing your website. I mean, you want the copy to be perfect, the images to pop, the navigation to be seamless but all those things might end up being meaningless if you don't pick the right type of websites.
And I don't mean WordPress or Joomla. I am talking at about websites at a conceptual level. What concept will benefit you most. And when talking about websites in a conceptual context, there are all types of website you can consider. I am sure at least one of these types will fit your needs.
Here are 5 Types of Websites to Consider When Starting a Business!
Types of Websites: Portfolio Website
A portfolio website is typically a website that is built around visuals. The visuals are the pieces of your portfolio you want to showcase. They will typically be displayed in a way that can be viewed in a cluster or individually at a large scale. A portfolio website also typically comes with limited functionality, such as the user's ability to contact you, and the copy is typically less than extensive.
Below is a screenshot of a very solid portfolio website. It has a very simple navigation. Social media links and the contact page link is front and center. You can also view all the content in a cluster or click on each piece and learn more about it.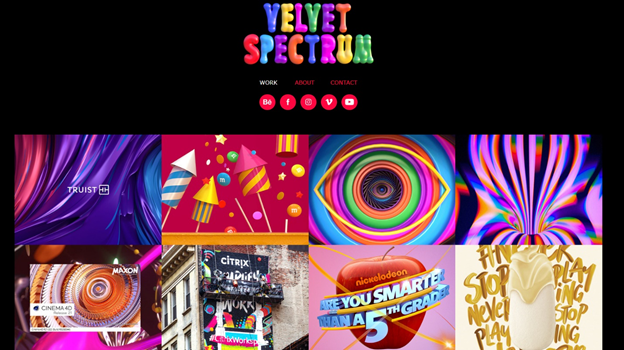 A portfolio website is great for artist or creatives of some sort who like to be contacted via email/phone, handle purchases strictly in-person or link out to 3rd party ecommerce sites.
A portfolio website could also work for a business that strictly wants to show their portfolio of work IE a marketing agency. You can showcase examples of materials you created, case studies, commercials and so on. In this case, the portfolio concept would be used as a complementary website to your primary one. It'd be a marketing tool for potential clients to get on and look at your work without ever getting distracted looking at anything else. A user experience that almost creates a way for your users to get lost in just the work.
When looking into different types of websites, it's important to pick the right content management system (CMS). A CMS to consider for a portfolio website would be Squarespace. Squarespace is a CMS for more novice developers and can easily highlight your strengths (which is great for a creative showing off their work). There are also many visually exciting templates to choose from.
If I had to give one last piece of advice, sometimes less is more with these kinds of websites. You don't want to show everything you've created. You want to show off your best stuff and a variety as well.
Best For: Creatives or businesses looking to show off their range
Possible CMS: Squarespace
Tip or Takeaway: Less is more
How to Make Money: Using beautiful imagery and effective navigation to showcase your work and drive users to contacting you for a purchase.
Types of Websites: Editorial/Blog Website
Some websites are selling products using content while with other websites the content is the product. An editorial website is a website that's sole goal is to publish content that informs or entertains users. A blog (similar to an editorial website) is a site that is used to publish content, but the content is usually the opinion of one person in a diary-style presentation. So, originally, an editorial website would be something like a newspaper (NY Times for instance) with several writers creating news and opinion pieces where a blog would be an individual writing about their travel experiences for example.
These days it seems the lines between blog and editorial types of websites have been blurred. You will get "blogs" that employ multiple writers and cover news topics. Furthermore, many blogs are not used to deliver someone's diary-like experiences but rather used to build SEO with the content being used as a way to build credibility, or even equity, with search engines.
The distinction matters less these days whereas the intention matters much more. This style of website is perfect for businesses looking to profit off of written content of any sort – whether it is news, entertainment, informative or a combination of all. It also works perfectly as an add-on to websites looking to build out their SEO using a blog section.
An editorial website typically looks like this: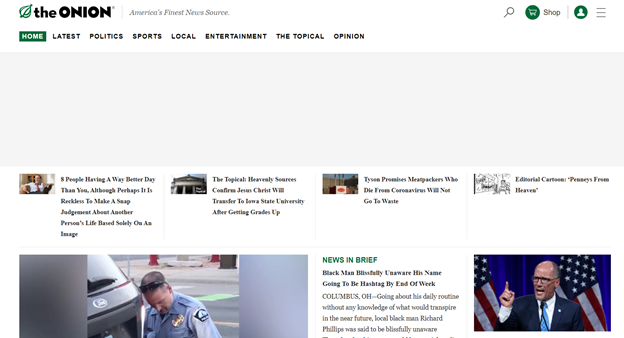 As you see the website has a top navigation that allows you to browse by topics. It also makes good use of space with featured article aligned across the top of the site and then in a cluster below that. Sometimes you'll see a slider with featured articles scrolling by, such as our homepage.
I'd say the key for being successful with an editorial website is to find a niche that is not filled or one that you feel you can fill better. It's not the best idea to compete with news conglomerates covering national news or competing with established cooking websites who provide general recipes but if you want to write about recent news updates about local food spots and throw in some of your own recipes then you might have something.
For companies looking to start a blog to increase SEO, there are endless tips, tricks and techniques to making this successful. You can read more about that in the blog below. The blog covers some great topics, such as backlinks, featured snippets, voice search and SEO video marketing.
Blog: SEO Best Practices for 2020 and Beyond
If you are going the SEO blog route, this is the first piece of advice I'll give you as you embark on your research process – make sure you write about topics that will interest the user but tie into your industry. This is important for attracting the right traffic and logically moving them into leads for your product.
When looking for a CMS for your blog or editorial website, I would go with WordPress. It has excellent flexibility when looking to modify your layout, it integrates with thousands of templates and has an extremely easy dashboard to manage your posts. There are also many SEO plugins that can help guide a novice SEO marketer and even make things easier on a more advanced one too.
Best For: Businesses or individuals looking to profit off of articles of some sort or increase their SEO to better advertise their product online.
Possible CMS: WordPress
Tip or Takeaway: For editorial sites, find your niche. For SEO blogs, find a blog concept that fits into your industry and offers logical ways to tie in your product.
How to Make Money: Monetize traffic with ad sales or create traffic to your product/contact page via SEO.
Types of Websites: Ecommerce
Maybe the most well-known type of website besides a standard website, an ecommerce website is a site where users can shop for products/goods and buy them directly from the website. An ecommerce website comes with many benefits:
You can reduce costs of payroll by allowing you self-sufficient ecommerce site shoulder some of the work.
You can possibly eliminate the cost of overhead completely by not having a brick and mortar store at all.
Your business can stay open 24/7 because shoppers can place orders online at any time.
An ecommerce website should act as a full online shopping experience with multiple ways to filter the items you are browsing, a search bar to make finding things easy, clear images that show the product in multiple formats and a smooth checkout process.
The screenshot below is a great example of an ecommerce site. Apple has laid their site out with a very simple ways to navigate. You can navigate by product type and then below that you get a row of product types listed by sketches. Then you can get a nice long scrolling page with great pictures of the products.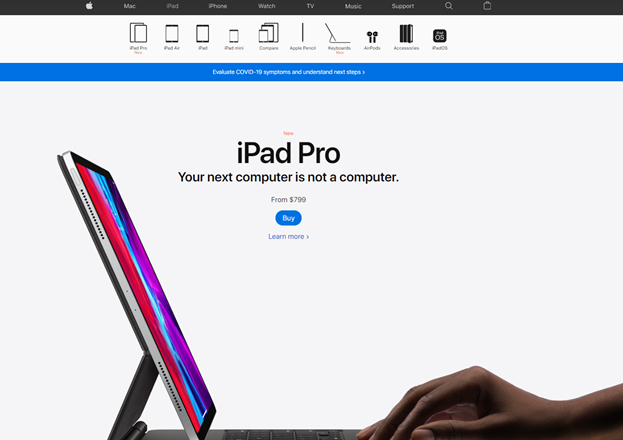 The article below reviews a custom survey we conducted here at ReliaSite.com. We asked what online shoppers want besides reviews and pricing. The article covers a number of user experience (UX) related topics that could really benefit someone looking to create an ecommerce site.
Article: What Online Shoppers Want: We Surveyed Users to See What's Important Besides Reviews and Price
An ecommerce site is great for anyone who is trying to sell products of any sort really (I'd maybe avoid extremely large or perishable items). If you are a small business, you could ship products yourself and if you are a big business you can use a 3rd party shipping company. I recommend trying to negotiate with shipping companies on price as you would be surprised how flexible they can be with pricing.
Another tip for users interested in ecommerce types of websites is to not force users to create an account. You want to eliminate as many steps as possible from browsing to purchasing. You can capture their information when they purchase the item. Last piece of advice is to create scarcity. You can do this by offering discount that are on a limited timeframe to create urgency in your users.
As for a CMS, I recommend Shopify. They offer free integration with Amazon and eBay. They also provide a comprehensive platform where you can manage all products and orders in one place.
Best For: Businesses who want to create another avenue to sell their products or sell their products singularly online.
Possible CMS: Shopify
Tip or Takeaway: Don't force users to create an account, create scarcity and negotiate with shipping companies.
How to Make Money: Sell your own products, resell products purchased at wholesale or use a dropshipper.
Types of Websites: Affiliate Website
Wouldn't it be nice to make money without having to do anything? Well, this is not exactly the case with affiliate websites but if done correctly, you can get to that point in some form or fashion.
Affiliate websites are sites that act similar to an ecommerce website, but you are not selling your own products but rather acting as a host for others to sell their products. They way you earn money is through commission on each product sold on your affiliate site.
Most successful affiliate websites revolve around a niche of some sort. This could be a particular hobby or holiday. Another popular take on affiliate sites are "review websites." They act as sites that review products to drive interest but if a user purchases a product through their affiliate link then the website owner will earn commission off it.
Your job is drive traffic, but the best part is once you establish an audience and streamline maintenance, you do not have really deal with anything after the purchase. Just collect your piece of the pie.
Affiliate websites can take many forms as we mentioned. Take the screenshot below. It is called
"The Prepared" and actually looks like an editorial website that covers topics geared towards "preppers." But if you buy something through one of their links, they will get commission off of it.
They don't hide it either. Smartly stating "The Prepared is supported by readers, and when you buy something we recommend, we may get an affiliate commission — but it never affects your price or what we pick."
This is a good example as they have a niche, promote it well and don't even hide their affiliate website aspect.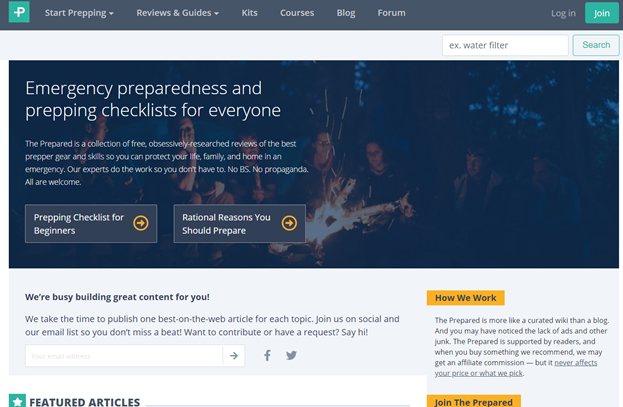 As far as a good content management system for affiliate websites, I'd go back to WordPress. They are once again flexible, have an excellent and easy to use backend dashboard and have affiliate marketing plugins to make life easier for you.
Best For: Crafty digital marketers who are looking to earn some passive income
Possible CMS: WordPress
Tip or Takeaway: Find a niche and market the heck out of it
How to Make Money: Leveraging your existing audience or creating a new one and driving them to buy products you are earning commission off.
Types of Websites: Landing Page
A landing page is a single web page website that acts as a landing (hence the name) spot for users that provide copy/visuals that sell the user on a product and drive them directly to a call-to-action. I'd say landing pages should be concise and truly act as a funnel that is heavily focused on streamlining the conversion process.
The screenshot below is an excellent landing page example. It's advertising a way to silence embarrassing notifications while screensharing. The copy is very concise, leads right to a CTA and there are some funny fake notifications that pop up during your time on the page.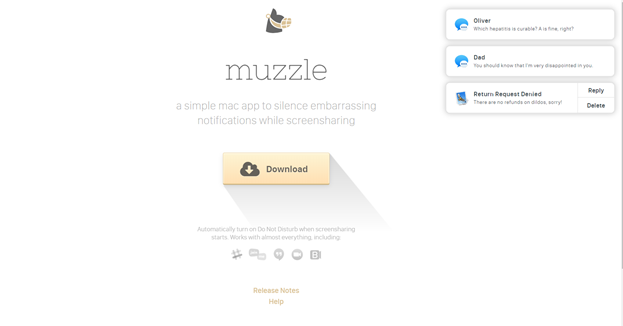 Traffic for landing pages typically comes from some type of paid advertisement, such as a Google Ad. It is vital to make sure your paid advertisement copy and visuals match the landing page's copy and visuals. You can even look at as if the paid advertisement is the headline for the landing page and the landing page picks up where the advertisement left off.
If you want a landing page that is simple to make and highly affordable, I would use Wix. It basically turns you into a coder without having any coding skills. Otherwise, WordPress is once again a good choice.
Best For: Crafty digital marketers who are looking to earn some passive income.
Possible CMS: Wix or WordPress
Tip or Takeaway: Find a niche and market the heck out of it.
How to Make Money: Having effective content that leads users to a contact form/way to buy your product or service.
There you have it, folks. 5 types of websites that are sure to help to get you on the right track with your business website. Good luck!