The UK's privacy watchdog, the Information Commissioner's Office (ICO), recently announced plans to fine British Airways a record-breaking £183 million due to a data breach in 2018. The ICO said that the airway's "poor security arrangements" resulted in the data breach, which included personal data (credit card details, names, physical addresses, travel details, and logins) of about 500,000 users.
Heres how ICO Commissioner Elizabeth Denham explained the fine:
People's personal data is just that – personal. When an organisation fails to protect it from loss, damage or theft it is more than an inconvenience. That's why the law is clear – when you are entrusted with personal data you must look after it. Those that don't will face scrutiny from my office to check they have taken appropriate steps to protect fundamental privacy rights.

Elizabeth Denham
British Airways' Chairman and CEO Alex Cruz said they were "surprised and disappointed" by the decision. (No surprise there!)
But What Do Customers Think?
But there's a party that's often left out of discussions like this. We know what the government and the company think, but what about the general public? What about the individuals that are potentially impacted by the breach?
We surveyed average British citizens to see what they think of the fine. After all, shouldn't their opinions matter the most? Here's what they said.
What is your opinion regarding the UK government fining British Airways £183 million due to "poor security arrangements" that exposed customers' private data?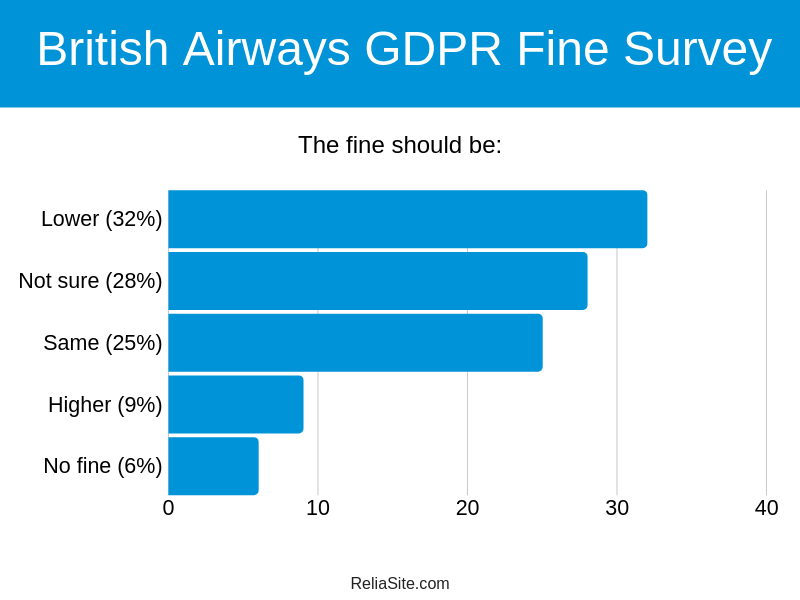 Respondents Appear To Support British Airways
The survey yielded some pretty interesting results. As shown by the chart above, a plurality of respondents said that the fine was too high.
In addition, of the respondents who had an opinion (72% of the total answers), just over one-half (53%) either said there should be no fine or that the fine should be lower.
In other words, the citizens of the UK seem to be on British Airway's side in this matter. It's hard to say why (since the survey didn't ask) but perhaps users don't place a high monetary value on data security. Or maybe they really like British Airways. Or, maybe they just don't want the price of their Mediterranean holiday to increase next year!